This is a technical era and everyone is Online then why is your marketing not on the Internet. Facebook Ads is there…
In this article, I will explain some basic aspects of Facebook Ads from Scratch, on the other hand, I will also explain to create your own ad.
Stay here…
In this article I am to go through some basic and important topics that come around Facebook Ads, Here are they,
Just click any text/sentence that you want to read first.
What is FaceBook ads ?
Facebook Ads is the advertising service by Facebook to gain leads/conversion direct to your website. It is a kind of Paid marketing.
"Facebook ads are paid messages that businesses place on Facebook. … A paid ad lets you target a particular demographic, and you can be as specific or as broad as you'd like.' Mailchimp Says…
In short for beginners, Facebook Ads is the place where you can promote your Facebook account, a Post, Pages as well as your website also.
On 6th November 2007, the CEO of Facebook and Instagram Unveiled an ad system for businesses to connect with users and target advertising to the exact audiences they want.
They are free to promote their brands on Specific Demographics for Gender and many more that will be discussed in this article later.
Additional Content
Why should I use facebook ads ?
Facebook ads have become the major aspect in terms of Digital Marketing. But Facebook ads are not a cup of tea. It requires the right strategy.
It made it so much easy for business owners to run campaigns on their Facebook profile to gain leads within some amount of investment.
As per the study people spend more than 70 minutes on social media and the majority of them are spent on Facebook.
Suppose people keep scrolling this social media and enjoy their mood and suddenly your ads appear on their screen about what they want. You will get lead.
That's why Facebook is required for every business that really wants to take it Digitally.
Facebook ads allow you to run your ads on specific,
Gender
User Interest
Demographic Location
Age wise
Connections
Relationship Status
Languages
Education
Workplaces
You will know from which kind of Filter you should use to get a good amount of ROI through Facebook ads…
If your products/ services are related to females then you would like to use the Female in Gender filter. Same as Location if you are getting much traffic from Gujarat for a specific kind of product like textile then you can choose Gujarat as Target Location.
In Facebook ads, you can set the budget as per your budget. If you have more money to be investment then you can get much ROI.
leading $3 on every $1!
Sounds good?
Well, it is possible once you create a campaign about your existing website or application.
Practice making a person perfect.
How does facebook ads work ?
As everyone knows this Giant technical system work on CODING bases system, Facebook is one of them.
Facebook ads generally use your Filterised data to show on your ads to some specific category as I discussed above, Gender, location, age, etc.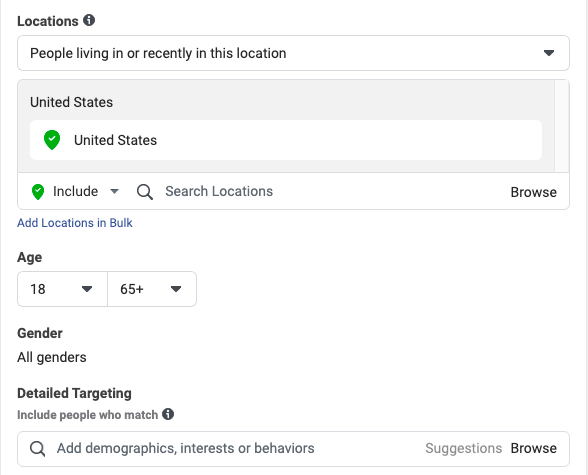 After it, the user will set the budget and bid for their click based on the impression.
To gain your leads you need to have provided a source that will take the user to another page.
If you want to bring your audience to your website then you have to set a good kind of landing page that will easy to understand your service and product.
A landing page is a single webpage that serves a single purpose—usually to drive conversions.

—Neil Patel
There are many ad formats like Images, videos graphics, etc…
What is a Facebook Page?
"Pages are places on Facebook where artists, public figures, businesses, brands, organizations and nonprofits can connect with their fans or customers. When someone likes or follows a Page on Facebook, they can start seeing updates from that Page in their News Feed."
It would be good if you have your own Facebook page that will help you to run your ad campaign.
You can upload posts, images, links,s, and videos on your Facebook page. It is seen that majority of brands have their own Facebook pages.
To create your own Facebook page you should follow the following instruction,
Step 1: Log in to your Facebook account
If you do not have . Create one facebook account, It's very easy.
ST -2: At the left-hand navigation move towards Pages.
STEP : 3 FulFill the neccessary detail regarding you brand, business and the service you offer.
ST 4: Your page is created ! Now you can upload media from your pages.
Here you can follow our Digitalhead Facebook pages.
How to grow your revenue with Facebook ads ?
Facebook ads can be a major medium in your revenue modal. With the right Marketing strategy and budget, you can do that.
It takes time to set your reputation on social media etc.
You may be surprised how can you grow your revenue with Facebook ads.
Sound good?
Well, It is possible.
Let's clear it.
You create a campaign, set an appropriate budget, and run your ads.
Suppose your Product/Service/Course has a cost of $5. On the other hand, your CPC is about $2, then you are generating a net profit of $3 directly through Facebook ads.
For each $2 Investment, you are getting $3 (Net) as Return on Investment (ROI).
Let's try to understand Facebook Auction.
Any time an ad spot is mad open on Facebook an auction takes place in real-time. Every day Millions of auctions take place around the Facebook app family.
It is not a Top bidder who takes a proposal though. You can not buy your way to the top. You need a high-quality advertisement as well.
Here is the Auction formula.
Total Value + Relevance and quality = Advertiser Bid * Estimated Action rates.
How to set budget for facebook ads ?
Budget in Facebook ads is the major aspect of your campaign.
It may directly impact your whole budgeting in your ads campaign.
There are two kinds of budget in the Facebook ad. Daily Budget and Lifetime Budget.
At Daily budget, Facebook spends the budget per day on a daily basis where you set on daily. On the other hand Lifetime budget, Facebook ad spend on the entire campaign period you selected for your campaign.
There is no need to pay as much as the amount on your campaign to be successful in FB ads. In fact to get good ROI the primary requirement is having well and qualitative Ad, i.e Ad quality…
Set your campaign for your business !
Well, the Facebook ad is a great source to gain your business leads and increase your website traffic in some amount of investment.
Before making a campaign make sure you have decided on your budget to be spent on Facebook Ads.
Login to your Facebook account and move ahead towards the AD section.
The AD section should look like the above images.
Now I want you to click on create a button to proceed.
To Proceed you have to choose a campaign objective about why you want to run a campaign.
As I want to get traffic on my website then I will surely click on Traffic.
Type a Campaign name that you want to run on FB ads. You can also enable or disable the CBO (Campaign Budget Optimization ).
In the special ad category, you can declare if your ads are related to credit, employment, or housing, or about social issues, elections, or politics.
Traffic Source
The first aspect is to where you want your audience to?
You want to bring the audience directly to your website then you will click on the website if not you can choose another option that is displaying.
Ad Budget
The second aspect is Budget. As I mentioned earlier about two types of budget. Daily and Lifetime Budget.
As a beginner, you should choose the daily budget.
Target Audience
The Third aspect is the audience that you want to target for your ad.
In Audience Location is matters. If you want to show on your ad only to a specific country or city then you can customize it in the Location segment.
As per your service/course/product you can select the age criteria as per your own wish and gender-specific.
Detailed targeting refers to the audience by including or excluding demographics, interests, and behaviors.
Add your Facebook pages, if you have not. then create a Facebook page as I mentioned above.
In Ad setup, you can customize the Ad format.
Ad creation
You can add single images/video, Carousel, and Collection.
Now let's move towards Ad creative where you will add the text. Your Primary text as well as your descriptive text.
REMEMBER your Images and headline are the two main things where your CTR may jump suddenly.
Add keywords and attractive adjectives in your Headline.
If I Talked about Images then Do not copy and paste them directly. Try to create your own images using Image Maker Pablo Buffer.
Let's further.
Now you are running your ad in order to gain traffic directly towards your website then you will click website as a Destination and type your website URL at blank space.
CTA plays a major role in conversion. CTA stands for Call To Action. There are different kinds of CTA options like,
Shop Now
Sign In
Order Now
Call Now
Subscribe
Watch More
Send whatsapp
Book Now
Apply Now
Download
Get offer/Quote
Learn more
Listen now
Get Access etc…
The further process will take you to the payment and currency setting.
You will be provided a preview of your ad on every single change on ad creative.
What is Facebook Pixel ?
Well after reviewing the process Facebook will list your ad into the feed of the targeted audience.
To know about the numerical data of your ad, you need to come to a dashboard of your Ad Manager.
The data will look like the below image,
The CPC stands for Cost per Click charged by Facebook to each click. Facebook will charge the amount by each click and once your budget got expired then it (AD) will be automatically stopped by Facebook.
Now let's come to the Facebook Pixel.
The Facebook pixel will help you to retarget the audience that does not make any conversion despite of visiting your ad.
That user who has not converted to a consumer, FP (Facebook pixel ) tracks their action and lets you know about them so that you can retargeting them.
For that, you have to connect the Facebook Pixel to your website which you can do easily.
If you are a WordPress user you can install its plugin and connect the website with FaceBook Pixel to know the real-time data.
Conclusion
Facebook ads is like magic source for businesses, because only some amount of Investment can grow their revenue.
The only thing that is to do by you, is Filling the right data and set your budget.
That is only Quality ad that bring more conversion through FB ad.
To be success in Facebook ads, Yuu need to create an account as well as facebook page for your brand or website.
Make connect with people on facebook, Invite them to follow your pages.
Once you have audience you should start the facebook ads journey.
Thanks for reading.
If you have any kind of doubt then feel free to note at comment section , additionally you can tweet to our official Twitter handle.